Wildlife Seminar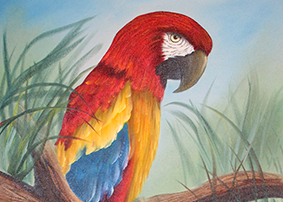 Through painting you will discover in yourself a greater awareness of the beauty of nature. The Bob Ross wildlife certification classes, in 3 levels give you a wonderful chance to capture and reproduce paintings easy to teach in workshops.
The friends you make during your certification seminars are for a lifetime.
You will receive special coaching on becoming an effective Bob Ross® Instructor, motivating beginners and correcting your students mistakes.
There are special products, how-to packets and videos to give you the means to create beautiful wildlife paintings for yourself and your workshops once you're a fully fledged CRWI (Certified Ross Wildlife Instructor®)
There is a unique line of brushes, paints and accessories just for Bob Ross® Wildlife Painting
Unless otherwise indicated, don't try to use other paints or tools for this technique. His wildlife supplies are indeed different, they've been developed especially for creating furry friends.
---
Wildlife certification class & Refresher course
NEXT COURSE Level One
April 14 to 18, 2019
NEXT COURSE Level Two and Three
to be determined for July /August
Courses available on demand. Please contact me for more informations.
Enquiries and booking